Your Trusted Boston IT Support Company With Over 35yrs of Experience
Providing comprehensive IT solutions tailored to your business needs
Part of operating any business in Boston involves providing your team with the hardware and software necessary to perform their jobs. In addition to providing the tools, you must also offer IT support services to end-users when they run into problems.
Some problems are simple, such as forgotten passwords or the inability to print documents. Others can be much more complex and require a high level of technical support and skill to diagnose and resolve.
If you are a small company that requires IT support in Boston, you most likely rely on someone within your company who is technically savvy, or users are expected to fix issues on their own. This is a very disruptive IT support strategy; it leaves end users feeling less valued and often disrupts employee productivity.
At Welsh, our full-service Help Desk team located in Boston is available to assist your staff with tech support, regardless of their issues. Whether you have a small business or a staff of 200 employees, our IT services team is equipped to respond to your daily help desk issues and IT support needs.
We Make the Cloud Simple to Use
When we talk about cloud computing and cloud services, we mean delivering data over the internet, commonly referred to as "the cloud," in a safe and dependable manner.

We Help Things Run Smoothly
The goal of IT Support Services is to provide information technology support in order for businesses to run smoothly without any downtime, round the clock.

We Provide You With the Latest Tech
We create IT plans designed to optimize the hardware and software resources available to a business in order to support and advance its goals.

We Protect You From Security Threats
Working in the digital age requires an awareness of the unseen factors threatening the security of your business against costly damages.
"Great service as always from the Welsh support team, many thanks to Laura for her excellent assistance."
"Great customer service, great sense of humor! Thank you!"
"Justin received the ticket originally, so thank you! And, Josh went above expectations, on the last business day of the year to help me! Much appreciated!"
"So fast! So helpful! My computer and printer are once more happily married! Thank you."
"Very quick to get back to me and knowledgeable on what to do. Thank you!"
"I was extremely frustrated initially, but Uday assisted me and fixed all of my concerns. Thank you Uday!"
"Thank you for your incredibly fast and effective help!! Life saver!"
"I almost like having issues because you guys are so nice. Thanks again"
"Wagner was a pleasure to work with and resolved the problem quickly! Very happy with his service!"
IT Support Service for Boston Business
If you are a company in Boston, you will typically partner with an IT services provider that offers outsourced managed services. Managed services in Boston generally include all of the security products your business needs – such as antivirus, device encryption, anti-phishing training for your users, etc. – as well as providing the technical resources and services to manage your hardware, mobile devices, network infrastructure, and security.
As an IT Support Specialist Company, Welsh has been delivering business technology services and IT strategy for over 35 years. Welsh works with a variety of small businesses in the Boston area, ranging from the financial services industry, biopharma, dental practices, nonprofit, property management, private clubs, as well as several other industries.
In addition to the above, Welsh IT services include on-site support services in Boston for either weekly, monthly, or quarterly site visits, as well as unlimited access to our help desk team. Our IT services are available 24/7/365. All clients benefit from our proactive security services that are designed to protect your environment and keep you in compliance.
We also work with Boston customers who may already have an existing IT department. In those situations, we work alongside your IT staff to support and improve processes, efficiency, and security posture, as well as deliver an exceptional IT support experience to your entire organization. This can be done in several ways.
One option is for Welsh to provide management of your IT team in the Boston area, which is called a virtual Chief Information Officer (vCIO). This means Welsh manages your technology, creates your solutions roadmap, and guides your internal resources to carry out the specific tasks. We provide transparent reporting and technology accountability check-ins and assume responsibility for your staff's satisfaction with IT services.
Welsh also works with under-resourced IT teams. We can augment your existing team by providing service tasks such as onboarding/off-boarding, help desk support, inventory management, network management, cloud management, or any other task within your IT infrastructure that requires attention.
Other services include managing projects such as cloud migrations, infrastructure upgrades, network upgrades, creating disaster recovery plans, security strategy, and implementation of any of the solutions we recommend.
With over 35 years of experience delivering Boston IT support, we love sharing our knowledge to improve the quality of security, performance, reliability, and productivity for all our clients.
What Are Your Technology Needs?
Every business looking for Boston IT support will require different technology support structures, network configurations, data providers, and security protocols. But how do you know what is right for you and your greater Boston small or medium-sized business?
Regardless of your industry, finding the right IT support personnel is extremely difficult. If you're looking for IT support in Boston, you might be best served by identifying an IT service provider who is a leader in their industry and has a track record of delivering quality solutions that focus on security, while delivering on your needs.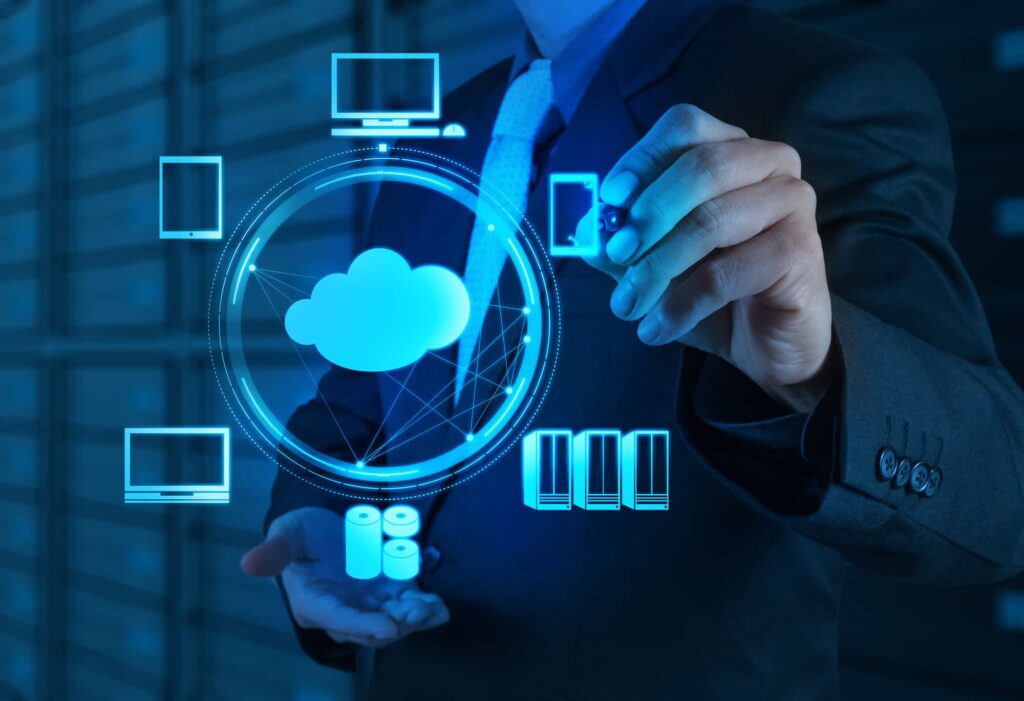 At Welsh, we utilize our expertise to create custom IT plans that fit your business and your goals. Whether you are looking to host your data and applications in the cloud, on-site, or in a hybrid solution, Welsh has skilled people on staff to deliver.
All Welsh clients are assigned a dedicated client account manager (CAM) to ensure total satisfaction, and most importantly, to drive your technology initiatives forward so that your business objectives are always achieved.
How We Manage IT Services in Boston Area
Small and medium-sized companies have struggled to navigate the ever-changing world of IT. Our team is structured so you receive the best IT support in Boston possible. You will always have access to our technical team, but when it comes to planning, forecasting, and budgeting, we take the "tech talk" out and communicate in English. We make sure everyone understands the strategy, the roadmap, and the ultimate objectives, regardless of their IT knowledge.
Despite the uncertainty of returning to our downtown Boston offices, you should not alter your IT strategies. Your business objectives should be supported through your IT infrastructure, and that is what we manage here at Welsh. While returning to work in downtown Boston may be up in the air, your business does not need to be derailed. Welsh will work with you to keep you on track and moving forward.
Through Welsh's IT tech support services, we have helped many businesses navigate through this time of uncertainty. We have taken Boston companies who have never dealt with employees working from home and enabled them to become fully remote. Our IT services simply allow you to put your best foot forward for your clients, regardless of where you are located.
We have also helped many companies move their IT systems, network infrastructure, and data to the cloud so they no longer have to rely on being in a single location. These services provide flexibility and scalability to your business, regardless of what tomorrow may bring.
Welsh Consulting has helped many companies shrink their network physical resources by moving storage and workstations from physical devices to virtual devices. Moving to a virtual environment saves companies space and maximizes efficiency.
Welsh Consulting provides clients with comprehensive security and network audits. During the audit process, we test the network and prepare a full security analysis report. This report lists concerns and ways to strengthen the environment, allowing for PCI and HIPAA compliance. If you need to know how secure your network is, let Welsh perform a full audit of your environment. Contact us today!
Today, companies rely heavily on their wireless networks. Is your wireless network working at its ultimate capacity? Let Welsh Consulting analyze your wireless network's performance to ensure maximum efficiency for your company's needs.
Of course, there are lots of IT consulting firms offering Boston IT support. However, Welsh has been a leader for over 35 years by serving Boston with outstanding IT services. We have long-term partnerships with our clients and provide the best services in Boston. Give us a call to learn more about how we can help your business excel now and in the future!