Before the COVID-19 pandemic came in full swing, working from home was nothing but a pipedream and sheer luxury. Businesses weren't optimized to function this way from the get-go, and the tradition of leaving your house to work had been around for many decades.
However, these same businesses are slowly embracing what they formerly considered taboo: remote work. Multinationals like Atlassian, Amazon, and Adobe soon followed the trend but with occasional in-office tasks when necessary from the initially proposed three-day week. All these, despite how diverse their operations and teams are.
The Cybersecurity Side of Things
Although companies like Microsoft reported communication problems within and across teams, one overwhelming problem for smaller companies is the possibility of cybersecurity attacks by malicious actors. Hackers can now easily access companies' databases because teams are spread out thin, and office rules and regulations are less strictly followed. They take an opportunistic route like phishing, using clone official email domains, and poor WiFi connectivity to which workers connect their work devices.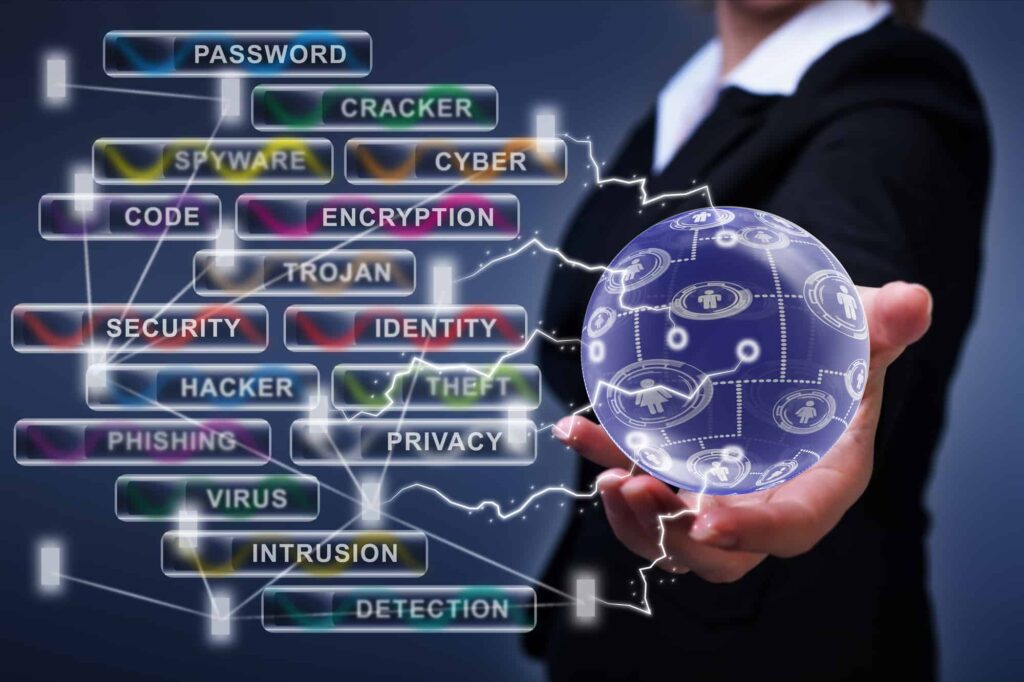 In a recent report, HP studied organizational cyber risks due to remote work and found that one-third of remote workers granted someone access to their work device. Approximately the same percentage of remote workers used their office devices for personal tasks and vice versa, 70% and 69% respectively. With the inconsistency in security best practices, the hacking footprint of these workers' devices keeps growing — and we haven't taken human error into account yet.
Cybercrime costs small and medium businesses more than $2.2 million yearly, with 60% of these businesses going out of operations within six months of the breach. These numbers jeopardize the future of remote work if appropriate measures aren't taken, especially when we consider that 40% of cyber attacks target small businesses. So how can we minimize hacking footprints, improve operations and increase the sustainability of remote work? As a leading Boston IT company we can suggest you 4 ways to create and maintain a safe working space from home
4 Ways To Create and Maintain a Safe Working Space From Home
Maintaining a safe environment while you work from home is essential to preserving the practice's viability, especially for organizations with a distributed workforce and large amounts of consumer data. You and your team can adopt a few best practices for safer work and secure information sharing.
1. Make Sure Your Home WiFi Is Secure
Home WiFi is one of the first ports of entry for hackers and the easiest for remote workers to safeguard. You do not need expert technical knowledge to get this done yourself. First, create a password that is not easily guessable. Do not use your spouse's name, date of birth or a pet's name as a password. To be on the safe side, use password managers to develop unique and hack-proof passwords for your wireless network.
A trick that makes it harder for hackers to mess with your network is to change the display name/SSID of your WiFi. This reduces the possibility that an external party could identify your network as belonging to your business — providing an additional layer of anonymity in a sea of wireless networks.
2. Personal Tasks, Family Members, and Work Devices Don't Mix
Do not allow any third-party access to your work devices. You shouldn't use them for personal tasks either, as gaining access to the wrong online platform can compromise your device's security. Protect your work devices using strong and unique passwords to reduce the chances of being the port of hack entry.
If you are not tech-inclined and having issues with any hardware used for work, do not call the neighbor to have a look. Instead, send the device to your office's IT department for troubleshooting, or, at least, IT personnel approved by your company.
3. Use an Antivirus and Always Leave It On
Having an antivirus on your PC makes you think less of the many ways things can go wrong. Why? Keeping track of your activities on the web can be tiring, combined with the mental stress of tasks at hand. With an antivirus, hacking footprints are minimized greatly because malware is taken care of before it can harm your device.
You should invest in antivirus software if your company deals with droves of consumer data and if you are part of a team developing a product. Certain malware is engineered to access and relay sensitive info from your PC spyware, while others are built to extort money from you, holding you ransom. As long as you send and receive email and have access to the internet, you should invest in a reputable antivirus.
4. Take Extra Care With Video Conferencing Applications and Platforms
During the thick of the pandemic, video conference platforms like Zoom were subject to an increased number of attacks. It became so frequent that Zoom was forced to address the issue. Because similar incidents like these have happened in the past, you must take stringent measures to prevent monitoring and sensitive information leaks.
The FBI curated a list of dos and don'ts to ensure safer online meetings. They are:
Make sure sessions are private and password protected;
Ensure that your video conferencing vendor offers end-to-end encryption and other privacy and security must-have features;
Always install the latest security patches and software updates from the official websites of these platforms.
Get Premium and First-Rate IT Support From Welsh Consulting
The estimated global damage to businesses due to cybercrime is $1.5 billion and rising, with nearly half of them in the small and medium scale sector. Since 1984, Welsh Consulting has been helping businesses fortify their IT operations as they transition from physical to virtual environments. For wireless networking, security reporting and other services, call us at (617) 695-9800 or email us at info@welsh.com. Contact us to secure your home workspace today!