Technology is evolving at breakneck speeds!
If we are not trying to understand the intricacies of edge computing, we are busy perusing tech blogs to find fool-proof cybersecurity solutions or skimming through Tech-crunch's Twitter feed to learn more about emerging tech tidbits. In most cases, we do this not for desire but because it's necessary!
Now, what about an entrepreneur who is not only expected to understand technologies as they emerge but also needs to develop marketing campaigns and ensure the smooth running of business processes?
A managed IT service provider is the 'peace of mind' and every business owner needs to improve their IT department's efficiency and keep operations running as expected. That way, they can focus on other mission-critical tasks that promote business longevity.
So, how exactly do managed IT services offer peace of mind?
Access to Expertise
To be honest, no one can know it all!
For this reason, hiring managed service provider in Boston is an excellent first step to accessing top talents that eat, sleep, and breathe technology. They understand the IT industry in-depth and can help you generate better ideas, integrate technologies, and stay up-to-date with modern-day tech needs. 
Having garnered a wealth of experience over the years, managed IT service providers are better positioned to anticipate and predict likely future trends or disruptions, giving you the armor you need to get ahead of the technological curve.
Furthermore, outsourcing IT services will reduce the department's workload, allowing the team to focus on other core tasks.
Cost Reduction
The world economic condition has deteriorated since the pandemic and the Russia-Ukraine war. As a result, entrepreneurs now operate in tough economic times and are forced to tighten their belts to survive.
Hiring in-house IT talents can be expensive. Apart from the infrastructure and tools you will purchase, you must also pay for leave days and suffer downtime when a critical employee is sick or unavailable.
Since IT is a critical department for most businesses, hiring managed IT service providers is the serenity any entrepreneur needs to reduce business costs. Here's why!
First, you will eliminate recruitment costs and not need to purchase equipment or business management tools. While you will also need money to hire managed IT services, this is only a fraction of what you would have otherwise spent recruiting, onboarding, and paying in-house talents. You can channel the money into other productive projects.
Preventative Measures to IT Problems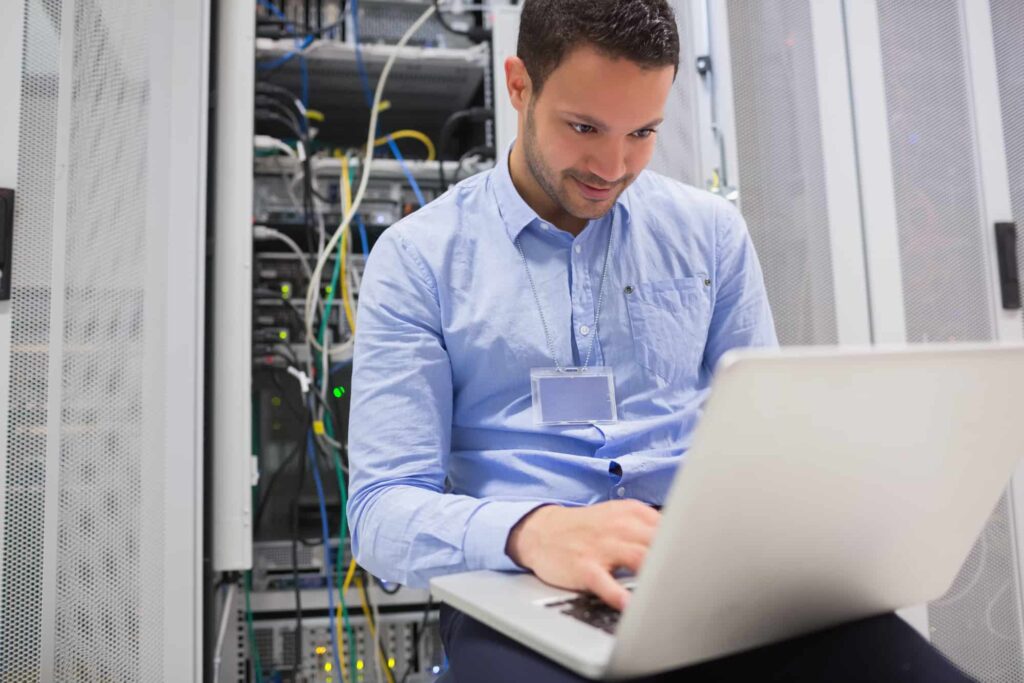 Many businesses are moving away from a reactive approach to solving IT problems. And they are doing it fast!
A reactive approach involves calling in experts to help resolve IT issues after they have happened. However, this is often costly, especially since the company might experience downtime.
MSPs are known to take a proactive approach to solving possible IT problems. They are keen on implementing preventative measures that address foreseen challenges before they actually happen.
For instance, instead of trying to contain a cyber attack after the damage is done, they will update all systems and software beforehand, set up the necessary endpoint protection strategies, improve system security and functionality of your infrastructure, and control system access.
Furthermore, considering that 95% of cyber-attacks are a result of human error, they will continually train your employees on cybersecurity measures, minimizing the possibility of your company suffering a breach.
Compliance with Industry Standards and Regulation
Organizations must comply with data protection and privacy requirements, which is often complex for business owners to handle.
However, managed IT service providers understand these guidelines and regulations extensively and will ensure you don't rub shoulders with the law. As a result, you won't worry about non-compliance consequences such as data breaches, hefty penalties, system failure, downtime, cyber attacks, and a soiled reputation.
Staff Can Focus on Core Business Objectives
If providing IT services is not your company's core business, partnering with MSPs is an excellent step as your employees have more time to handle other core company objectives, promoting business growth.
Furthermore, delegating most of the technology operations to a third party will complement your IT department's efforts in building a fool-proof IT department. MSPs will handle tasks that could overwhelm your workforce, which enhances productivity and performance.
Additionally, businesses can relax knowing they have round-the-clock IT support for their operations.
Data Recovery
Losing sensitive data is a company's worst nightmare – whether through a cyber attack or accidental file deletion. Unfortunately, while companies are keen on safeguarding data, sometimes the unimaginable can happen.
To significantly increase the chances of recovering data and minimizing system downtime while at it, seeking the help of IT gurus is of the utmost importance.
Managed IT service providers are experts that understand data recovery practices and can help you regain lost data. Once hired, they will examine the existing systems and develop a data recovery plan based on the company's needs.
Besides, they will perform regular backups and maintenance to ensure you have another set of data available in case of a disaster.
How Welsh Consulting Can Help
Technological advancements have positively impacted the business landscape in more ways than one. However, not many business owners can keep up, and here's where we come in.
Welsh Consulting is a managed IT service provider that can help your business easily adapt to the ever-changing tech industry. Leveraging our three decades of offering IT support to businesses of all sizes, we will ensure that your infrastructure, systems, and networks are operating at optimal levels.
To ensure we constantly offer impeccable tech services, we are keen on following industry trends and learning technologies as they emerge. We then transform this knowledge into actionable strategies that help your business gain a competitive advantage.Be assured of round-the-clock IT support. Contact us today to book your free consultation.