Your business's growth is strongly tied to how well you can leverage your resources to satisfy your customers. However, with limited resources, you have to ensure your business runs at maximum efficiency to produce remarkable results.
While you can leverage technology to improve your processes, automate manual tasks and increase productivity, it can be arduous to start. With little or no expertise, implementing technology into your business's operation can negatively impact your growth. Allocating most of your resources to adopt IT into your processes can adversely affect other significant business areas, such as managing customer engagement and marketing campaigns.
Experienced managed IT services in Boston offer managed services that allow you to position your resources to leverage technology and enjoy its benefits. These services, including 24/7 support, data migration and IT security, enable you to handle other aspects of your business with the certainty that your IT infrastructure is efficient. Managed IT services keep your technology and operational systems in check by promptly resolving technical issues in real-time — also saving costs by implementing solutions that suit your business.
Among the benefits of relying on managed IT services, a glaring one is data security and compliance. In a 2020 Data Breach Investigations Report by Verizon, 17% of data breaches involve malware, 22% involve phishing and a whopping 45% feature hacking. Managed IT services help your business handle your IT infrastructure in terms of cybersecurity and more.
Reliable IT Support
Technical issues can occur at any time, causing significant upset to your company's operations. You may experience server downtime at any period of the day, resulting in customer dissatisfaction and loss of revenue. Managed IT services offer proactive support for trouble-shooting and administering your IT infrastructure. Whether the issue is a forgotten password or an error in the server that requires in-depth analysis to reach a diagnosis, IT service providers offer full support to ensure your staff feels fully supported with the tools necessary to efficiently complete their daily tasks.
IT support is not limited to promptly responding to and resolving issues. Managed IT services also assess your hardware, software and network infrastructure to implement the best strategies according to industry standards to support your business stability and growth initiatives.
Effective IT Infrastructure Monitoring and Management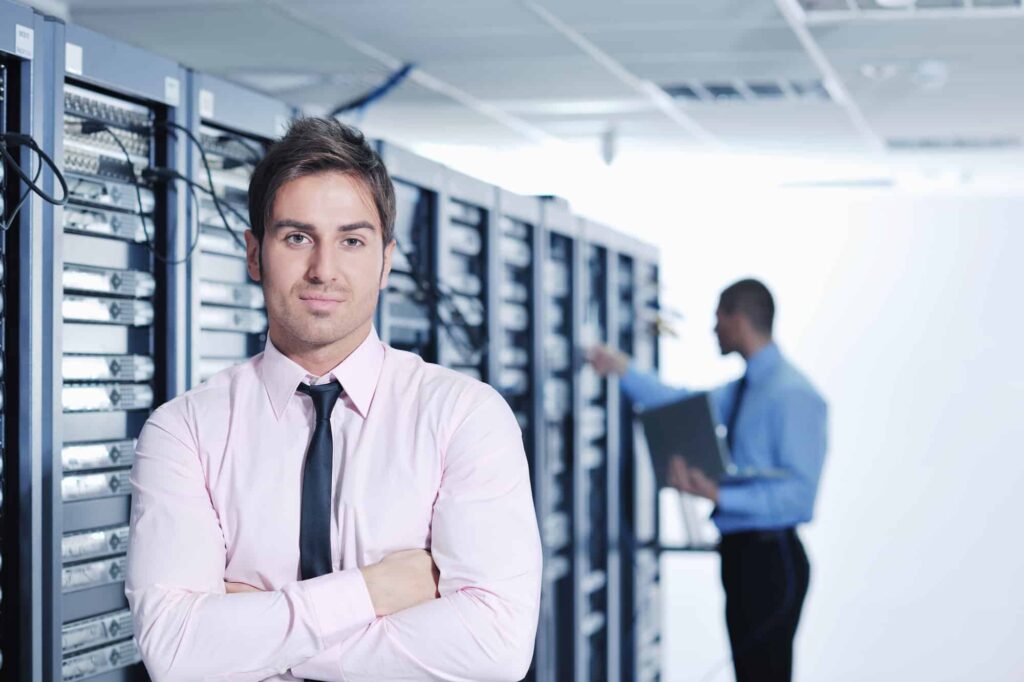 You can avoid threats and resolve issues before they arise with round-the-clock monitoring with alerts to notify you when something seems wrong. IT service providers monitor your infrastructure to spot areas for improvement or processes that can be susceptible to cybersecurity attacks. IT providers manage your infrastructure when you want to scale, allowing you to grow seamlessly with systems robust enough to handle your business's needs while avoiding lag or downtime.
Keeping track of your IT infrastructure constantly while you can allocate that time to addressing other aspects of your business can spread your resources thin, negatively affecting the growth of your business. IT services also include monitoring your infrastructure to ensure all the components are in order and that you can respond to threats quickly.
Solid Security and Compliance
Cybersecurity has been an ongoing topic in the business sector, with small businesses facing the challenge of educating their employees on best practices to avoid cyber attacks. Managed IT services help you and your employees cover the essentials by providing comprehensive educational material for cybersecurity best practices based on your unique industry. This training can include phishing tests to enable your employees to get familiar with detecting malicious emails and reporting them.
When considering new software, your IT services provider examines your business needs and prospective software solutions to ensure its safety before integrating new platforms into your infrastructure. From keeping updated with the latest security threats to running periodic tests on your firewall, managed IT services include protecting your infrastructure from several forms of cybersecurity threats. IT providers implement essential cybersecurity measures consisting of multi-factor authentication, vulnerability scans, and penetration tests to ensure every inch of your infrastructure is protected.
Thorough Data Backups and Disaster Recovery
Losing your business data can be disastrous. In 2020, the number of data breaches in the United States amounted to 1001 cases, while 155.8 million individuals had issues related to the accidental reveal of sensitive information due to inadequate information security. Managed IT services provide secure data backups that can scale regardless of size to ensure your business experiences minimum downtime during data loss situations.
Whether your servers at your onsite premises get damaged, or you lose your data due to human error, you can rely on remote data backups to keep your business running as you address the matter. An experienced IT services provider guarantees you dependable data backups and a detailed disaster recovery procedure to resume business operations quickly.
Extensive Cloud Services
Running your business on the cloud has several benefits, including saving costs and increasing the efficiency of processes. You can either move your operations to the cloud entirely or use a hybrid approach to minimize your onsite resources and maximize those on the cloud. Moving to the cloud helps you save expenses from running onsite servers and allows you to scale concerning your business's needs.
However, migrating to the cloud can be challenging and filled with various bottlenecks that make the process frustrating without expert guidance. Managed IT services provide you with cloud support to conveniently run your operations, including analytics, networking and storage on a secure cloud platform.
Enhance Your Business Processes With Managed IT Services from Welsh Consulting
Backed by more than 35 years of proficiency in IT, Welsh Consulting is devoted to supporting businesses in the Boston area to take advantage of technology and improve their business productivity. Our team of skilled IT personnel provides comprehensive and inclusive support to provide you with the latest industry trends for innovative solutions. Contact us by calling (617) 695-9800 or via mail at info@welsh.com to discuss how you can optimize your processes and grow your business.